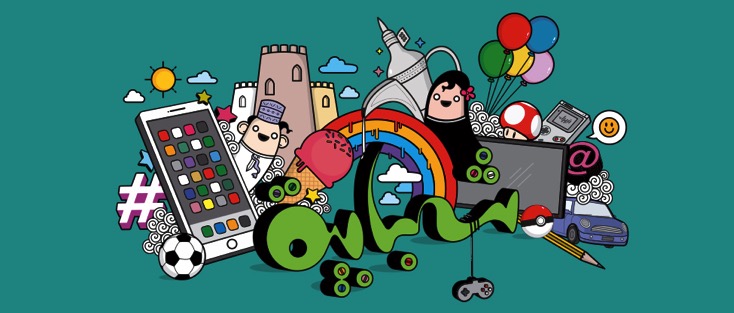 Shababiah is a product brand of Ooredoo Oman, targeted at the youth segment in the telecommunications market. The aim was to create a product that inspires Oman's youth, a generation immune to traditional marketing.
The word 'Shababiah' means 'youth' in Arabic and is a widely-used term in Oman to refer to youthful behaviour. The brand was initially launched in the early days of Ooredoo Oman. However, it only had moderate popularity. So in 2016, the management decided to tackle the problem by revamping and relaunching Shababiah.
The Shababiah team decided to involve customers and a series of surveys was conducted, asking the youth about their telecommunications goals, behaviour and what matters most to them. The surveys revealed that the youth segment want simple, transparent and affordable services. The concept was to have young Omanis create the product, so that it would be relevant to those young at heart. Ooredoo engaged an Omani calligrapher to create the logotype and a list of diverse Omani artists were selected to create their own version of the logo. The strategy was built around co-creation; the idea was that the best way to make a brand relevant to youth was to have them involved in the development of the product and brand communication.
Ooredoo invited them to create the logo, the visual identity and design all touchpoints of the brand. We wanted youth to show us their world, their Oman, and make Shababiah their product of choice and lifestyle partner.
Some of the artists went beyond the logo space itself, creating entire canvases for the brand which became the campaign's communication assets, SIM card packaging, vehicle livery, press packs and merchandise, as well as online content. This was, in every way, a brand created by the youth, for the youth.
The effectiveness of Shababiah far exceeded expectations with all targets smashed since its launch in July 2016. At the end of six months Shababiah had acquired a big market share of the youth segment, closing the year ahead of customer base target.
++++++++++++++
Ooredoo Oman was founded and registered in the Sultanate of Oman in December 2004. It launched its service in March 2005 as the challenger mobile operator in Oman, originally operating under the name Nawras. The Company was awarded the second fixed licence in Oman in 2009, and launched its international gateway in April 2010, its corporate fixed and broadband services in May 2010, and its residential fixed and broadband services in June 2010. Since 2010, Ooredoo has been an integrated services telecommunications operator and is currently serving over 2 million customers across the Sultanate.
[This article was written by the Ooredoo Oman marketing team, as an "Expert Insight" for Building Brand Experiences.]
Download the first chapter of Building Brand Experiences for FREE here

>Why not buy a copy of Building Brand Experiences by Darren Coleman on Amazon?

>Learn more about the Advanced Brand Experience Bootcamps we're running in London during 2019 here

>This extract from Building Brand Experiences by Darren Coleman is ©2018 and reproduced with permission from Kogan Page Ltd